sounds fun, looks fun sumo.
welcome to sumo sundays, where all bodies are welcome!
We offer monthly training in Vancouver's Powell Street area. Join our next session below. 👇🏽
---
About the Drop-In
All sessions take place from 1-3:30 pm at the Vancouver Japanese Language School & Hall (487 Alexander St.)Dates for 2023:
Sunday, Nov. 5, 2023

Sunday, Dec. 10, 2023

January to July 2024 (dates TBA)
---
Sumo Sundays is a monthly drop-in session for folks interested in learning sumo wrestling techniques. Our goal is to make a space inclusive of all bodies and experiences. This means no gendered matches and no experience to participate is necessary.Whether you are an online sumo spectator, have participated in or witnessed sumo at the annual Powell Street Festival or are simply curious about the sport, we invite you to join us. Folks are welcome to attend any number of our drop-ins, which we offer with little barrier to entry. (We do charge a nominal fee to help cover costs of space and equipment.)Sessions are currently geared towards adults and older teens with child-specific workshops TBA.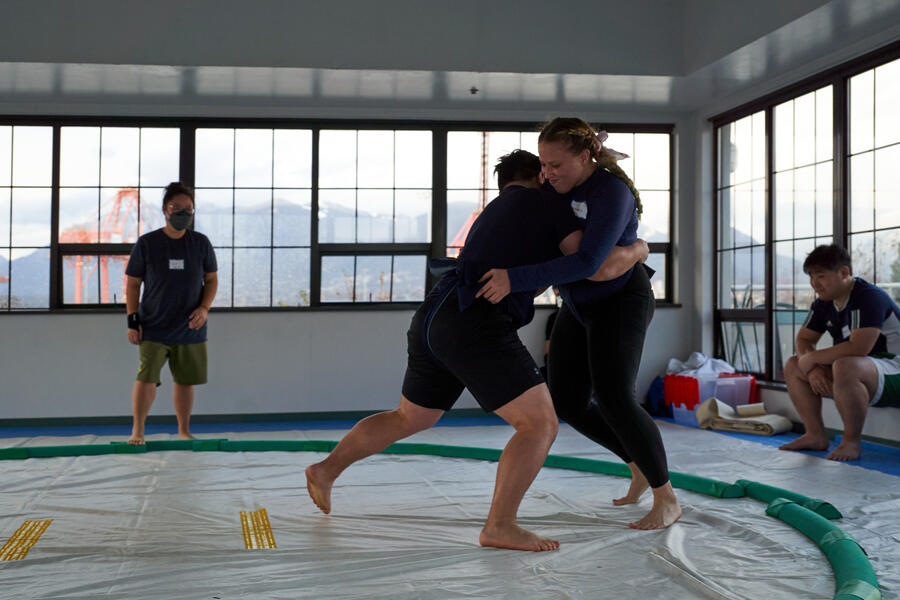 StructureEach session is 2.5 hours long. During this time, we aim to build confidence and safety around this popular Japanese sport. Every session incorporates stretches, techniques based on each participant's skill level and an opportunity to spar. You'll also get to learn to tie and wear a mawashi.Accessibility & ParticipationDrop-in sessions are for anyone, regardless of age, size, gender or experience. We welcome all folks so long as they are comfortable participating in a close-contact, movement-based sport with other adults. While we are open to adapting movements when possible, sumo does require the ability to squat (as low as you are safely able to) without falling over.We practice in the tatami room at the Vancouver Japanese Language School, which is accessible by elevator. On this floor, there are two single-stall washrooms with gendered signage.We are actively working to ensure a positive experience for all. Should you have concerns or feedback for us, please don't hesitate to reach out.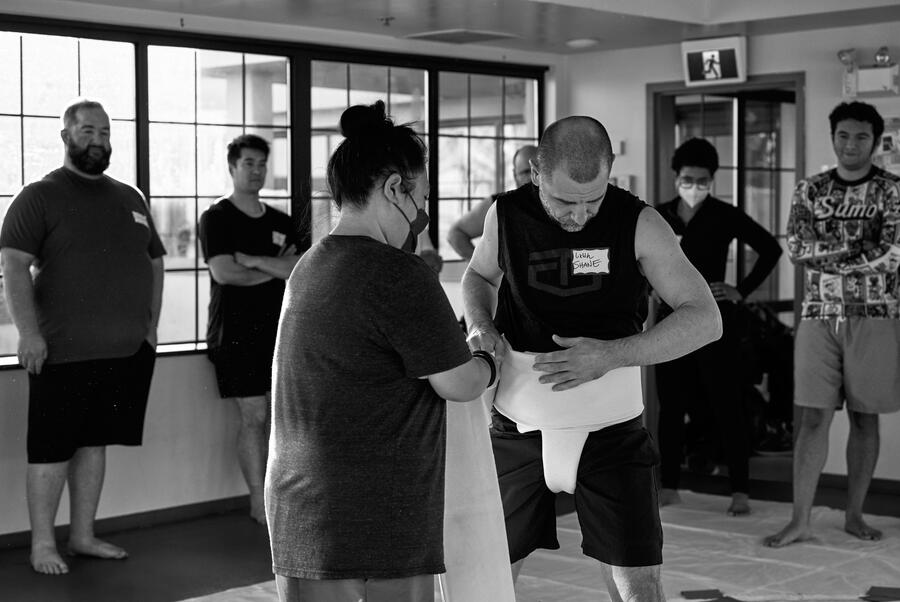 ---
Our Team
Our volunteer-led team blends experience and knowledge of sumo, martial arts, creative arts, and administration. Each of us has participated in sumo at Powell Street Festival and has assisted with or participated in previous workshops.
---
Shane Pecknold's (he/him) interest in sumo started when he was living in Japan from 2003-2007. Returning to Vancouver in 2007, Shane found the sumo tournament at Powell Street Festival. Over 10 years, he has competed in eight tournaments and has co-coordinated the tournament and workshops since 2016. Having a varied background and deep passion for martial arts in general, Shane has found unique ways to train getting ready for tournaments over the years. Shane says, "Being a smaller fighter, it was always my goal to normalize sumo as just another wrestling style, that anyone can play, regardless of size." As a result, Shane's version of sumo is all-inclusive where all genders, body types and abilities are welcome. "It's very exciting to have an indoor training space for yearly sumo practice," he adds. "All those years doing solo or small group training in the park have finally paid off!"Kayla Isomura (they/them) holds the first-place title for the women's sumo division at the 2022 Powell Street Festival. While Kayla has participated in a few festival tournaments, they credit this win of the big bag of rice (15 lbs to be exact) to previous workshops organized by the festival and informal training in China Creek Park by Shane Pecknold. Through these experiences, combined with their background as a photographer, storyteller and community organizer, Kayla's goal is to make an inclusive and accessible space for sumo in Vancouver.Lydia Luk (they/them) is an awesome human whose bio is in the works.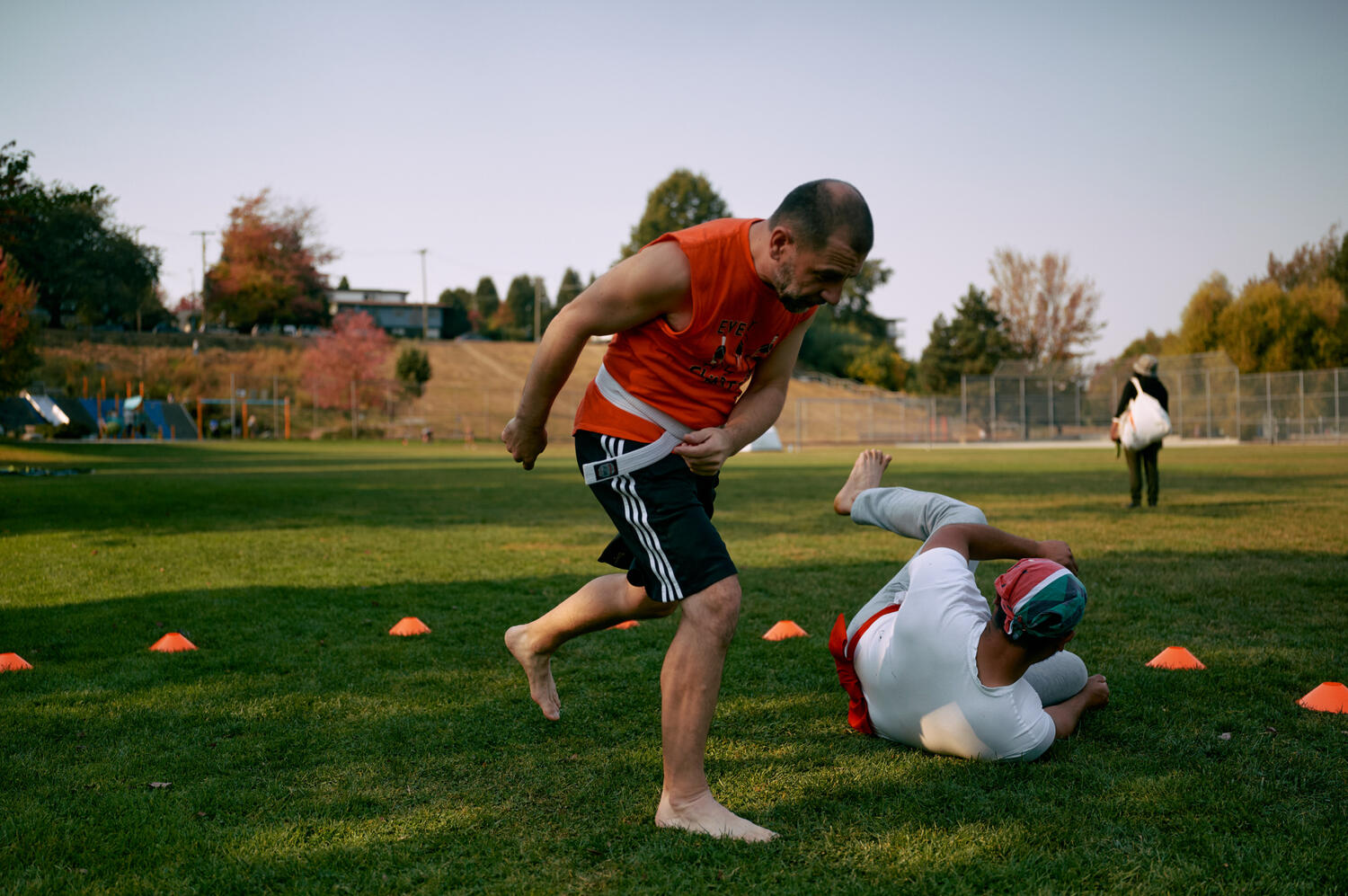 ---
Our roots
We would not be here without those who have paved the way for us.Sumo has taken place at the annual Powell Street Festival (PSF) for over 40 years. PSF is a community arts festival located in Vancouver's historic Japanese Canadian neighbourhood, Paueru Gai – today known as the Downtown Eastside. For much of this time, the sumo exhibition and tournament was coordinated by the Sumo Fun Club. Rooted in community, anyone was able to enter and compete for a bag of rice.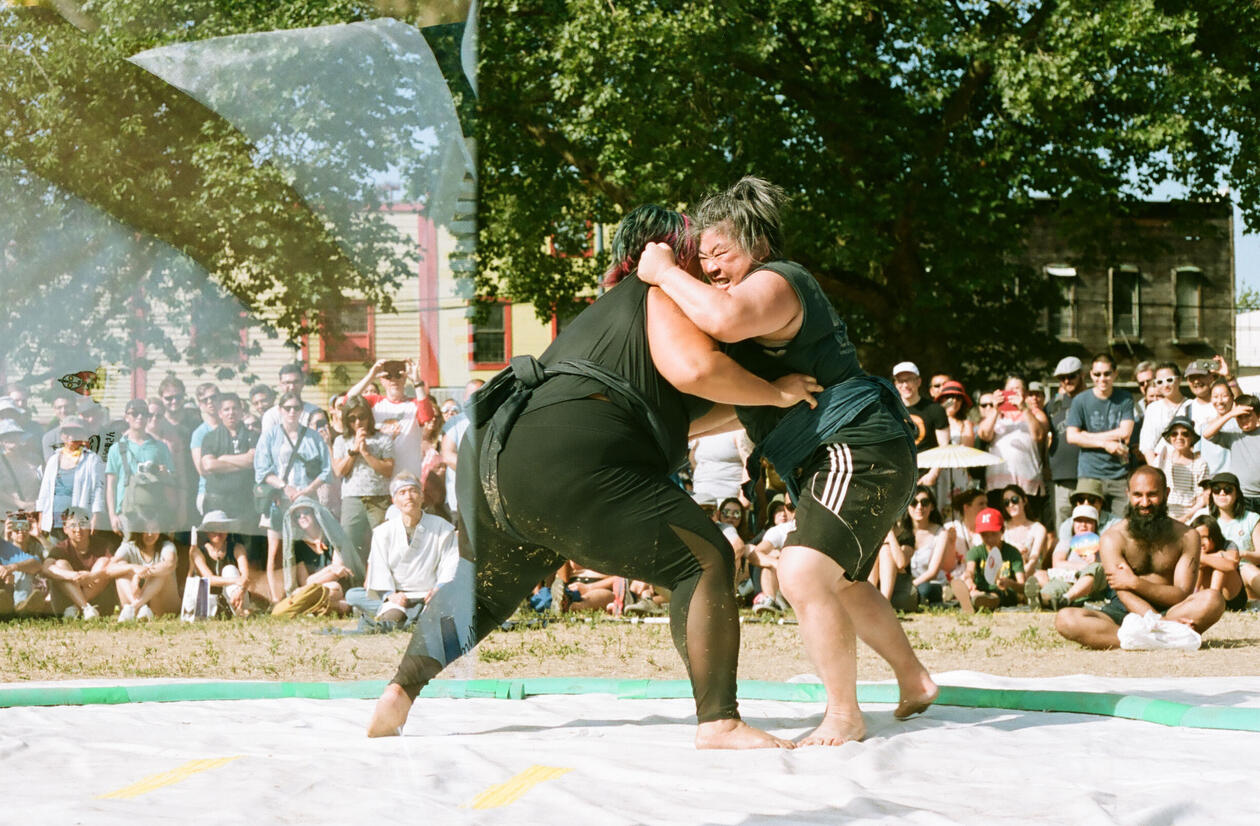 In recent years, many of the original members of Sumo Fun Club have passed. The torch to coordinate sumo has since been handed to PSF who has worked closely with some of our organizers to support workshops and coordination of recent tournaments.Our passion for continuing this legacy has led a small team of us to work with support from PSF to provide year-round opportunities for the public to participate in sumo. So, here we are.
---
Notes & Credits
We recognize that sumo is traditionally both a Japanese and men's sport. While our team has in-depth knowledge of sumo and has historical and cultural connections to Japan, we acknowledge that our take on the sport is non-traditional and comes from an alternative (diverse) perspective.Further, we acknowledge that our work takes place on the unceded traditional territories of the Musqueam, Squamish and Tsleil-Waututh nations; also former 100-mile exclusion zone; and current home to residents of the Downtown Eastside. We aim to approach the neighbourhood with respect in each of these regards and hope you do, too.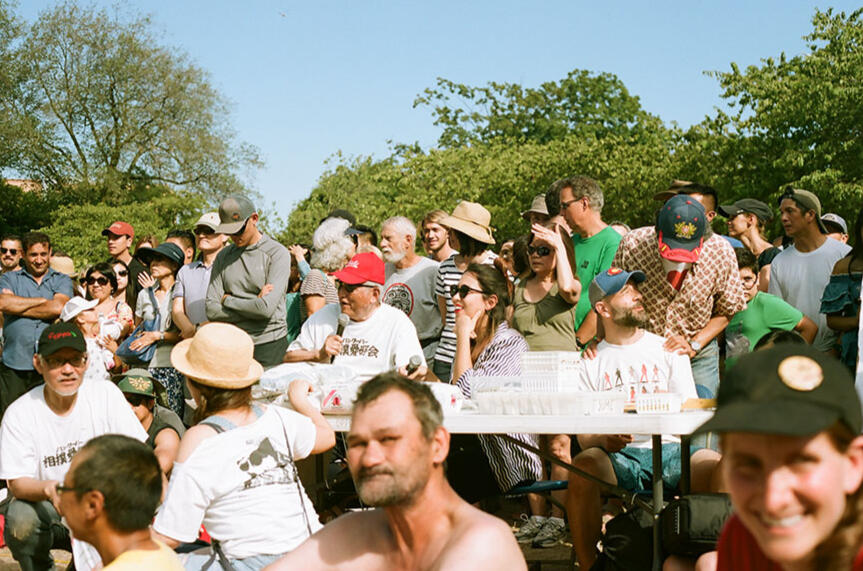 And finally, we thank the Vancouver Japanese Language School and Powell Street Festival Society for their ongoing support in making it possible for us to organize our events.All photos by Kayla Isomura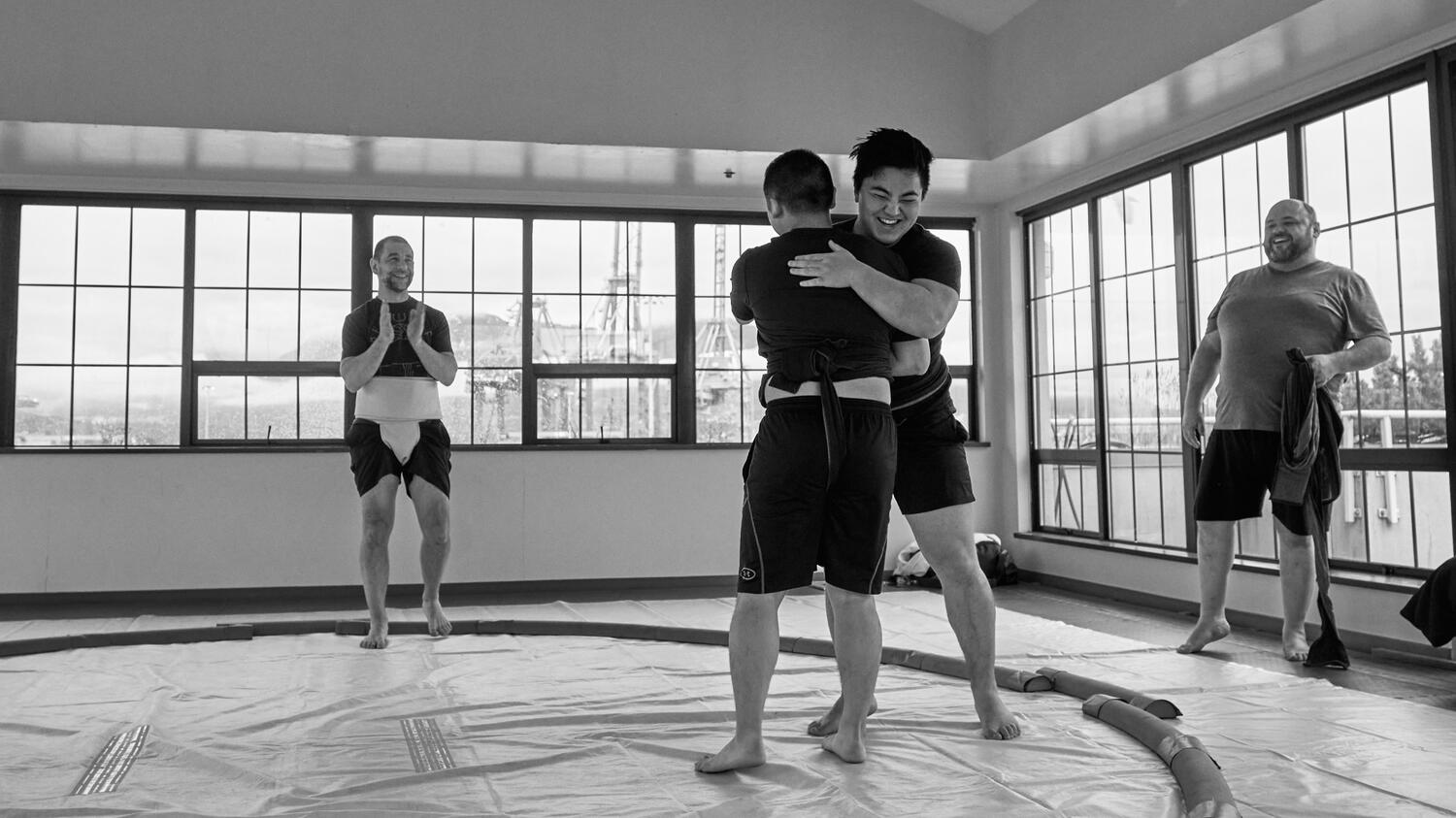 Questions?
Please email us at sumosundays [at] gmail [dot] com.
Sign up for our mailing list
© 2022 Sumo Sundays. All rights reserved.